Message from the Chair, SAA/SAFE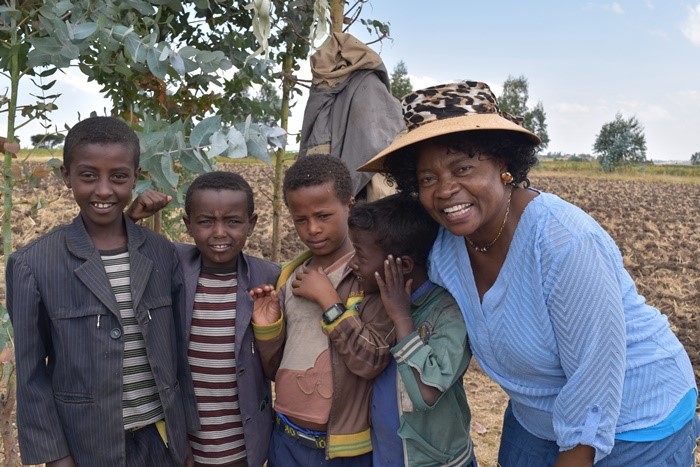 Chair of SAA/SAFE , Prof. Ruth Oniang'o in Ethiopia on 04/11/2015 with young happy children
We went to Ethiopia following the 1984/85 famine. Our founding Visionaries:

Mr Ryoichi Sasakawa now late as the Philanthropist, Dr Norman Borlaug also now late as the scientist and President Jimmy Carter for political leverage. Mr Sasakawa Senior leaves on through his son Yohei Sasakawa and Dr Borlaug's work continues through the World Food Prize Foundation. The amazing President Jimmy Carter continues with his work even as he undergoes treatment for cancer, news he shared with the whole world. He delights in teaching Sunday school and spending time with the young ones. He is now 83. I feel extremely privileged to be holding Dr Borlaug's position and make effort to build on the great foundation they laid nearly 30 years ago, and to continue with the legacy. This is 2015 and clearly Ethiopia has come a long way. These are healthy happy children. Credit goes first to the government of Ethiopia and to the many partners including the Sasakawa groups and to also Global 2000 spearheaded by President Jimmy Carter for the eradication of guinea worm.

In 2015, as SAA/SAFE- Sasakawa Africa Association and Sasakawa Africa Fund for Extension Education, we were able to showcase our work in Des Moines at the World Food Prize Borlaug Dialogue, for the first time since the Dialogue started in 1986. We are grateful to the Nippon Foundation chaired by Mr Yohei Sasakawa for sustained support, and to Ambassador Kenneth Quinn for affording us the space and opportunity to share just a tiny bit of what we have done over the past 3 years. We welcome comments and partners.