Nevin Scrimshaw HONORED
The shocking news of the passing of Dr Nevin Scrimshaw, a good friend over the decades, a great mentor to many of us worldwide and my own continent included, and a carer of the suffering in society sent me straight to the internet where I extracted the facts I have below. Nevin and his loving wife Mary, married for more than a record and admirable 70 years, became the model couple that mingled with, supported, associated with, and mentored many young and old professionals at international gatherings. Up to May 2012, Nevin responded to my emails. I was looking forward to meeting Nevin, and his wife Mary, a special friend of mine, this coming April on my visit to the Foundation for our yearly meeting. Nevin, your body may be dead, however, your spirit will live on with us. The seed you planted in this world is thriving and will live on forever. We thank the God that gave you to us, and kindly and humbly request HIM to keep your soul in Eternal Peace. May the Almighty grant Mary comfort and peace, and the whole family strength and resolve to go on. We are with you, in prayer and in mourning. Please remember the happy times as shown in the picture below.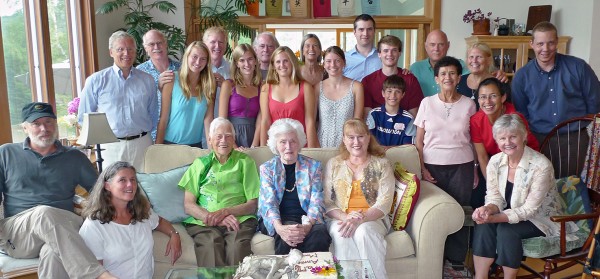 Source: timesunion.com Late Dr Nevin S Scrimshaw and his wife Mary, and truly lovely and loving family
He was born on January 20, 1918 in the USA, and died on February 8, 2013 (aged 95), received his PhD at Harvard in 1941 and MD in 1945 at University of Rochester. He received the World Food Prize in 1991 for his many years of teaching, research and development interventions aimed at alleviating hunger and nutrition deficiency diseases across the world. To advance his course, he founded the International Nutrition Foundation, now renamed the Nevin Scrimshaw International Nutrition Foundation, and one which I am happy to serve as a Board Member.
Rest in Peace Friend.
By Ruth Oniang'o
Kenya
Sampled Reactions to the above message
From: "Dale Harpstead" <harpd@msu.edu>
To: "Hon. Prof. Ruth Oniang'o" <oniango@iconnect.co.ke>
Cc: "Merry Fredrick" <merry@dybb.com>
Sent: 18/02/2013 17:52:25
Subject: Re: the passing of Dr. Nevin Scrimshaw
Dear Professor Oniang'o,
Thank you for being so kind as to provide the news, albeit sad news, of the death of Dr. Scrimshaw. My association with Dr. Scrimshaw extended over a period of more than 40 years because of his interest in and support of the discovery of high lysine maize now known Quality Protein Maize or QPM. Almost from day one he understood the impact this discovery could have on the lives of countless humans who have maize as a major portion of the daily diet. His endorsements were invaluable. I am also extending condolences on behalf of the Executive Director and entire Board of Directors of Self help International for the support that Dr. Scrimshaw gave to this Foundation's programs in both Ghana and in Nicaragua. The work with childhood malnutrition and the production and utilization of QPM were of significant interest to him.
Humanity has lost a great mind and a kind mentor.
Dale Harpstead
Professor Emeritus, Michigan State University
---
From: "Saul Willis sewe" <sewewillis@yahoo.com>
To: "Hon. Prof. Ruth Oniang'o" <oniango@iconnect.co.ke>
Sent: 20/02/2013 09:57:28
Subject: Re: Passing of Dr Nevin Scrimshaw
Hi Prof.
The wise saying that thrives my heart is this. Better responding late than he never responded at all . Iam reminded of the departure of my only one the Misiere who took care
of me after my Moms death ,to me
1) She was never aged.
2) She was lily of my life.
3) Life was to be lived partially.
Prof our mentors can depart after their hard work and so we can boldly say Yesu enyene for at the last trumpet we shall see them again but in a new atire worth admiring. AMEN
---
From: "Wannita Vorster" <factory@brunational.co.za>
To: oniango@iconnect.co.ke
Sent: 18/02/2013 13:47:16
Subject: Re: Passing of Dr Nevin Scrimshaw
Trust you are fine.
Thanks for the mail regarding Dr Nevin Scrimshaw.
Your precious words are indeed fitting, thank you and I am so proud of you.
With Best Greetings.
Aubrey Parsons
---
From: "felicia ndungu" <ndungufelicia@yahoo.com>
To: "Hon. Prof. Ruth Oniang'o" <oniango@iconnect.co.ke>
Sent: 15/02/2013 17:30:18
Subject: Re: Passing of Dr Nevin Scrimshaw
Dear Hon .Prof. Ruth,
Hi and thanks for the Condolence message regarding passing on of Dr.Nevin Scrimshaw,  I didn't know much about him until you gave a detailed account of his life and contribution to mankind. We will remember his family  and our prayer is that God may comfort them and keep them strong.
Best Regards,
Felicia W. Ndung'u
Head: Home Economics Sub-Division, Ministry of Agriculture, P.O Box 30028, 00100, Nairobi, KENYA
---