Letter to the Editor
Memorial University of Newfoundland
April 17, 2012
To Whom It May Concern:
I am a PhD student in the Faculty of Medicine, division of Community Health & Humanities, Memorial University of Newfoundland. I recently reviewed the article "Nutritional and health status of primary schoolchildren in rural Uganda" (African Journal of Food, Agriculture, Nutrition and Development, 2012; 12 (2): 5862-5880) following my interest in child nutrition and education. In this article, the authors set out to report the nutritional status and health status of primary school's children in Kumi District (Eastern Uganda) in 2006 – 2007. After reviewing the article I think there are few issues with the article as written worth bringing to your notice.
The aims of this study were clearly stated, however, I felt that a more accurate objective of the study should have included the fact that the authors will make recommendations and inform policies on modes of preventing malaria infection and increasing iron intake.
The method for school selection and sampling was appropriate as the study set out to document the nutritional and health status of primary school children in Eastern Uganda. The authors purposively selected fourth-grade students since this is a "pivotal bench mark for student learning." While this concept was adapted from Piaget (1983), this may not hold true for in this context because several factors impact a children's development and learning capability (i.e., demographic characteristics, educational level of parents, socioeconomic status, and geographic location). Additionally, there was no explanation if the above study was conducted in an urban setting or rural setting. I feel this constitute generalization and thus making conceptualization of the findings very challenging.
The authors note that of the 1020 children, 645 had complete data, of which 87 for urinary iodine, 189 stool samples, 119 blood samples for malaria, and 145 samples for hemoglobin, ferritin, and retinol. However, there were no indications if the sample for each variable is cumulative based on 645 total samples. The authors did not account for 105 participants with complete data. Moreover, this may result in a non-response selection bias. Furthermore, they did not discuss or provide calculations for an appropriate sample size nor how the sample size may influence the validity of the study.
The authors defined wasting, stunting and underweight following the World health Organization (WHO). However, the authors did not provide or discuss the levels as defined by WHO. Inclusion of this component is beneficial to understanding analysis. Finally, I would like to point that most terms used in the article were somewhat vague as the authors did not provide a clear-cut definition of these terms. Examples of these terms include "grade one public mixed-gender day school," "pivotal bench mark," nutritional and health status.
Overall, the credibility of the study does not suffer because of this minor oversight; however, clarifying these limitations will bolster the analysis.
Respectfully,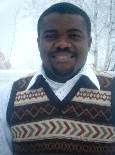 Ukeme E. U. Eka, MSc
(PhD Student)
Community Health & Humanities, Faculty of Medicine
Memorial University of Newfoundland
Health Sciences Centre
St. John's, NL, Canada
A1B 3V6
E-mail: ueue08@mun.ca