News
Featured in this issue:
---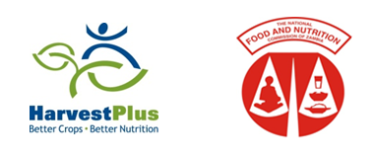 PRESS RELEASE
New Study Finds that Orange Maize Improves Vitamin A in Children
Vitamin A deficiency is widely prevalent in Sub-Saharan Africa
LUSAKA, Zambia, October 16, 2014/ -- Just ahead of World Food Day, a study published in the American Journal of Clinical Nutrition (http://goo.gl/AwrAkl) has established that 'orange' vitamin A maize increases vitamin A storage in the body. This maize has been conventionally bred (non-GMO) to have higher levels of beta-carotene, a naturally occurring plant pigment that the body then converts into vitamin A.
Logo: http://www.photos.apo-opa.com/plog-content/images/apo/logos/harvestplus.png
Photos: http://goo.gl/u9ygCR
Video: http://goo.gl/0KODjM
Lack of sufficient vitamin A blinds up to 500,000 children annually and increases the risk of death from disease (such as diarrhea in children). Vitamin A deficiency is widely prevalent in Sub-Saharan Africa. Foods that are good sources of vitamin A, such as orange fruits, dark leafy vegetables, or meat, are not always available, or may be too expensive in some regions. In many African countries, people eat large amounts of staple foods like cassava or maize. For example, in Zambia, people eat up to a pound of white maize daily. However, this white maize provides no beta-carotene. Switching to orange maize, which is rich in beta-carotene, could potentially provide maize-dependent populations with up to half their daily vitamin A needs.
In this controlled efficacy study, children from the Eastern Province of Zambia were randomly assigned to three feeding groups and received either white maize, orange maize, or a daily vitamin A supplement. After three months, both groups that received either the orange maize or vitamin A supplements showed significant increases in their total body stores of vitamin A, with no changes observed in the group that received white maize.
Lead scientist Sherry Tanumihardjo said "we were surprised to find that most of the children in this study already had substantial stores of vitamin A. We attribute this to the success of fortifying sugar with vitamin A, the provision of vitamin A supplements to young children, and perhaps better diets. Yet, despite having adequate vitamin A stores, we still saw this store increase in children as a result of eating the orange maize. So, I'm confident that orange maize would be especially effective in increasing body stores of vitamin A in populations suffering from vitamin A deficiency". Unlike the form of vitamin A found in supplements and fortified foods, the body regulates conversion of beta-carotene into vitamin A, and consuming high levels of beta-carotene is not harmful to health.
Several orange maize varieties have been released by the governments of Zambia and Nigeria. In Zambia, HarvestPlus (http://www.harvestplus.org) has provided orange maize to more than 10,000 farming households and is now working with the private sector with the goal of reaching 100,000 famers by 2015. According to Eliab Simpungwe, HarvestPlus Country Manager for Zambia, "the orange maize has been embraced by consumers once they have had a chance to taste it. When they also understand the benefits of vitamin A in the diets they are all the more enthusiastic about orange maize". The orange maize varieties released are also high yielding, disease and virus resistant, and drought tolerant.
The Zambian Government has officially recognized biofortification, which it includes in the National Food and Nutrition Strategic Plan for Zambia 2011-2015. Musonda Mofu, Acting Executive Director of the National Food and Nutrition Commission in Zambia and who was also on the study team, said "there are still many pockets where vitamin A deficiency remains a problem in Zambia. Food-based approaches such as orange maize can provide people - especially women and children - with a good portion of their daily vitamin A needs through nshima or other traditional foods made from maize, that we Zambians eat every day. For us, this is cost-effective and a safe approach to improving nutrition."
HarvestPlus and its partners have developed and disseminated other conventionally bred crops to provide needed vitamins and minerals in the diet. These are vitamin A cassava (Democratic Republic of Congo, Nigeria), vitamin A orange sweet potato (throughout Sub-Saharan Africa) and iron beans (Democratic Republic of Congo, Rwanda, Uganda). Zinc wheat and rice and iron pearl millet have been targeted to South Asia.
Distributed by APO (African Press Organization) on behalf of HarvestPlus.
Media Contacts:
Vidushi Sinha, HarvestPlus. Washington DC. v.s.vidushi@cgiar.org Tel: +1 703-505-7438
Eliab Simpungwe, HarvestPlus, Zambia e.simpungwe@cgiar.org Tel: +260974214152
Journal Article Reference:
Biofortified orange maize is as efficacious as a vitamin A supplement in Zambian children even in the presence of high liver reserves of vitamin A: a community-based, randomized placebo-controlled trial (http://goo.gl/Kqj54y),
American Journal of Clinical Nutrition; December 2014 ajcn.087379; First published online October 8, 2014. doi:10.3945/ajcn.114.08737.
Related Research:
- Vitamin A equivalence of the β-carotene in β-carotene–biofortified maize porridge consumed by women: http://goo.gl/pOI4jY
- Food-Based Approaches for Ensuring Adequate Vitamin A Nutrition: http://goo.gl/celuOr
Photos: Orange vitamin A maize: http://goo.gl/LbswKD
More About Vitamin A Maize
Maize is the third most important cereal food in the world, and is a staple food for more than one billion people in Sub-Saharan Africa and Latin America. It is high in carbohydrates but lacks essential micronutrients such as vitamin A. Maize exhibits tremendous genetic diversity, and there are many types with high levels of beta-carotene, a naturally occurring plant pigment that is converted by the body into vitamin A when the maize is eaten. This genetic diversity has been used to conventionally breed new varieties of maize that are high-yielding and also rich in vitamin A. HarvestPlus has partnered with many institutions to develop and test orange maize, including the International Maize and Wheat Improvement Center (CIMMYT) (http://www.cimmyt.org/en), International Institute of Tropical Agriculture (IITA) (http://www.iita.org), Zambia Agricultural Research Institute (ZARI) (http://goo.gl/NCgy4y) and Purdue University.
More about HarvestPlus
HarvestPlus (http://www.harvestplus.org) leads a global effort to improve nutrition and public health by developing and deploying staple food crops that are rich in vitamins and minerals. These are cassava, maize, and orange sweet potato that provide more vitamin A; beans and pearl millet that provide more iron; and rice and wheat that provide more zinc. We work with public and private sector partners in more than 40 countries. HarvestPlus is part of the CGIAR Research Program on Agriculture for Nutrition and Health. CGIAR is a global agriculture research partnership for a food secure future. Its science is carried out by its 15 research centers in collaboration with hundreds of partner organizations. The HarvestPlus program is coordinated by two of these centers "the International Center for Tropical Agriculture (CIAT) (http://ciat.cgiar.org) and the International Food Policy Research Institute (IFPRI) (http://www.ifpri.org).
SOURCE
HarvestPlus

---
From: Blane blane.bioline@gmail.com
Date: Wednesday, December 10, 2014 at 10:29 AM
To: Leslie Chan chan@utsc.utoronto.ca
Subject: [Bioline News Blog] Soil characterization in contrasting cropping systems under the fast track land reform programme in Zimbabwe - African Journal of Food, Agriculture and Development Vol.11 No.3
A recent article by The Guardian on land management in sub-saharan Africa specifically addresses the need for adequate soil care in order to better overall agricultural crop yields in the long-term. What's interesting is that the author underscores the total economic losses regionally by the improper care of soil within this region to gain a more fluid insight as to the need of a more established land management system altogether.
To understand this issue further, Shoko and Moyo in their article "Soil Characterization In Contrasting Cropping Systems Under The Fast Track Land Reform Programme In Zimbabwe", study the the soil found in Zimbabwe (sub-sarahan Africa) at the molecular level in hopes of better understanding the health of the soil via the levels of molecules found within. The article is in the African Journal of Food, Agriculture and Development vol.11 no.3.
The research was conducted by studying three contrasting cropping systems in Zimbabwe - both systems were communal areas: large-scale resettlement (A2) and small-scale (A1) and all systems were found within the province of Manicaland.
The soil samples were collected during the off seasons of 2006 to 2008 and the following soil sample characteristics were as follows: Ca, Mg, K, Zn, pH were tested to be in the soil, as well as variants of organic matter. Yet there were significant differences within between the soil chemical properties and production systems. Calcium, magnesium, and potassium levels were generally low in all three production systems, due to overall lower than normal pH levels found in the soil.
A2 farms were found to have the highest (p< 0.05) Ca, Mg, and K, while the communal area had the lowest levels of soil organic matter content. That said, the soil organic content in A2 (large-scale) farms are very much able to sustain plant growth. The reason for this could be, as suggested by Shoko and Moyo, because of better land management practices, such as liming and fertilization. Suggesting that there may be a need for both the communal and A1 (small-scale) farmers to apply organic matter to boost SOM in their fields.
With that said, the most optimum levels of organic matter for the region of Zimbabwe are between 1.5% - 5%, with results of the study showing the pH of the soil measuring between 5.0 - 6.8 (slightly acidic) in all three production systems. Yet, the acidity of the soil being significantly stronger in communal areas at the depth of 0-30cm, resulting in a negative yield of maize and groundnut within those areas. In both the A1 and A2 farms, it is suggested that the soil acidity levels could sustain the production of tobacco and sunflower and generally, there is a need for farmers in all three production systems to lime their soils and approve their organic matter through the application of crop residues and cattle manure.
For this journal and others from this issue, click here.
--
Posted By Blane to Bioline News Blog at 12/10/2014 10:29:00 AM

---
From: "Elly Sabiiti" elly.sabiiti@gmail.com
To: "Hon. Prof. Ruth Oniang'o" oniango@iconnect.co.ke
Sent: 7/12/2014 2:39:36 AM
Subject: Re: Announcing AJFAND Volume 14 No. 4 (2014)

Dear Hon Ruth,
Thank you so much for the great work of producing this journal.
My real concern in Africa is that many graduates/experts in agriculture are not practicing and we keep saying the farmers lack knowledge. For me I grew up on a small peasantry farm of my parents but now I have a much bigger farm of my own using my knowledge to contribute to food security.
Yes we will create new knowledge but if we do not create a new generation of professional agricultural farmers Africa will remain food insecure.
I am here in Sydney, Australia and I visited a hydroponic farm producing huge quantities of tomatoes being ran by a young man from China. It was incredible, he makes millions of AUDollars from two acres of land!!.
He is equally supported by Government so in Africa , our Governments should support those new graduates to turn agriculture around.
What do you think?
Elly
---
From: "David Kwaw-Mensah" dkwawmensah@gmail.com
To: "Emily AJFAND" emilyajfand@gmail.com
Cc: "Hon. Prof. Ruth Oniang'o" oniango@iconnect.co.ke ; "Michael Okumu" okumuajfand@gmail.com
Sent: 11/26/2014 11:17 PM
Subject: Re: Acknowledgment - AJFAND
Dear Emily,
Greetings. I trust this note finds you and the AJFAND family at the Secretariat in Nairobi well. Attached please find the reviewed manuscript AJFAND S. NO 15230 with my report. Congratulations! for the good work you are doing at the AJFAND Secretariat. Your commitment to the work of scientists in Africa and globally is highly commendable. Please greet Prof. Hon Oniang'o for me and extend to her my note of congratulations and appreciation for the work she is doing to project Africa on the global scientific platform, especially through the AJFAND. Please acknowledge receipt of this note with its attachments.
Best regards,
David
David Kwaw-Mensah, PhD
Agricultural Education /Extension
Soil Management /Environment
Land use Planning /Sustainable Agriculture

---
From: "Prof. Dr. Emmanuel Ohene Afoakwa" eoafoakwa@gmail.com
To: "Hon. Prof. Ruth Oniang'o" oniango@iconnect.co.ke
Sent: 11/27/2014 1:29:18 PM
Subject: Re: Announcement of my Promotion to the Rank of FULL PROFESSOR

Dear Prof. Oniang'o,
I am really humbled by the overwhelming response I have received from friends and well-wishers all over the world on my promotion. Thank you all for your congratulatory messages and wonderful responses.
Sincerely, I am grateful to you for the wonderful opportunity you gave me as a young academic to serve as Reviewer on your esteemed journal. Over the past decade, I have learnt a lot and derived great inspiration from you ever since I first met you October 2002 in Nairobi. Your dedication, commitment and professionalism have inspired me so much as a young and learning academic and these values have contributed tremendously to my success in academia. I really appreciate the opportunity to work with you and your team over the years.
Its unbelievable to see how far the African Journal of Food, Agricultural, Nutrition and Development (AJFAND) has grown I first joined as a member of your editorial team. The impact of AJFAND now is tremendous and I do commend you and your team for the great job.
I look forward to continued working together with you in diverse ways to further the build capacities of both African Scientists and beyond especially women.
Kind regards,
Emmanuel.
Professor Emmanuel Ohene Afoakwa (PhD)
Professor
Department of Nutrition and Food Science
University of Ghana
P. O. Box LG 134
Legon - Accra
Ghana
On Mon, Nov 24, 2014 at 9:59 PM, Hon. Prof. Ruth Oniang'o < oniango@iconnect.co.ke > wrote:
Wonderful news Emmanuel.
I met you when you were still an Assistant Lecturer/Lecturer, you did not have your PhD then, that was in 2002, very enthusiastic young academic; I invited you to start reviewing for AJFAND, which you did so diligently; soon you left to go and do your PhD, have been a prolific writer, have published widely including in AJFAND, have mentored other aspiring academics, and you have never failed us in your reviewer role. We at AJFAND are so proud of you Emmanuel and wish to join the so many of your friends and colleagues to congratulate you for the well deserved honor. You have done Africa and your own filed PROUD.
Cheers

Prof. Ruth

------ Original Message ------
From: "Prof. Dr. Emmanuel Ohene Afoakwa" eoafoakwa@gmail.com
To: "Hon. Prof. Ruth Oniang'o" oniango@iconnect.co.ke
Sent: 11/22/2014 8:06:35 PM
Subject: Announcement of my Promotion to the Rank of FULL PROFESSOR
Dear Colleague,
I am delighted to inform you that the Council of the University of Ghana at its meeting on Thursday, November 13, 2014 promoted me to the rank of FULL PROFESSOR in the Department of Nutrition and Food Science, University of Ghana.
I wish to thank you for the wonderful support, guidance, encouragement and prayers that you in many diverse ways invested into my life, and invariably seen me to achieve this great height in my academic profession. You are very special to me and I appreciate your contribution.
I look forward to continued working and collaborating with you in diverse ways. You will certainly be invited to the party in due time.
Delightfully,
Professor Emmanuel Ohene Afoakwa (PhD)
Professor
Department of Nutrition and Food Science
University of Ghana
P. O. Box LG 134
Legon - Accra
Ghana
Cell: +233-24-4685893 / +233-20-3505696
Website: http://afoakwa.tripod.com/
Scholarly Site: http://works.bepress.com/emmanueloheneafoakwa
Copies of my Book "Chocolate Science and Technology" could be purchased from Wiley website at: http://eu.wiley.com/WileyCDA/WileyTitle/productCd-1405199067.html
Copies of my new Book "Cocoa Production and Processing Technology" are available for purchase from CRC Press at: http://www.crcpress.com/product/isbn/9781466598232
"WHATEVER IS WORTH DOING IS WORTH DOING WELL"