Dr. Akin Adesina Made It
The newly elected President of the African Development Bank (AfDB), Dr. Akinwunmi Adesina, has promised to work hard with all African governments to deliver more inclusive economic growth across the African continent.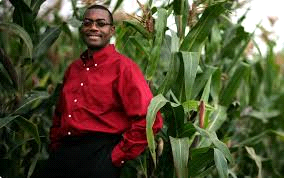 File picture of Dr Adesina in a maize farm, most likely in Kenya
An agricultural economist, Dr Adesina worked at the Rockefeller Foundation and that is where I first knew him. He then became Vice President of AGRA, based in Kenya and then moved on to Nigeria to serve his birth country as Honourable Federal Minister for Agriculture and Rural Development. To say I have followed Dr Akin's career with amazement would be an understatement. HE DELIVERS.
And now that he is in this key position we, of course, expect him to not forget his promises and to assure him that there are many of us he can count on.
Please get African leaders to realize that we can go nowhere without Agriculture and without ensuring food and nutrition security for our people. Please, do not forget that Africa's natural resources are virtually untapped and that with good governance, there are plenty of job opportunities for our young people along the agricultural (including livestock) value chain; and that if supported, Africa's women can support the continent and beyond.
Good Luck and CONGRATULATIONS!
By BIG SISTER RUTH ONIANG'O
KENYA