TRIBUTE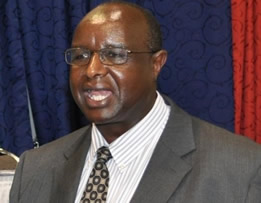 Prof. Samson Mwangi Kimenyi
[Picture: Jamhuri Magazine Baltimore]

Tribute to the Late Professor Mwangi S. Kimenyi
By
Prof. Joseph Kieyah
Acting Programs Coordinator at KIPPRA
Despite being aware of the inevitability of death, I have not internalized the untimely death of my great friend and teacher, Prof. Mwangi Kimenyi. Moreover, I am grateful for the special honor accorded to me to write this tribute on behalf his Kenya and abroad fraternity. I am not mourning, though mournful, but I commemorate his unwavering commitment to the gospel of economic freedom. He was supremely two things; a great economist and a Kenyan.
Ordinarily, we see things as they are and ask WHY? Prof. Kimenyi left for the US in 1980, and he dreamt of things that never were and asked WHY NOT? His story epitomizes an indomitable can-do spirit driven by insatiable intellectual curiosity that set him apart. Such attributes earned him special honor of having his doctoral studies supervised by two eminent public choice scholars; Prof. James Buchanan and Prof. Gordon Tullock of the School of Public Choice in George Mason University.
Luckily, his graduation in 1986 coincided with Prof. Buchanan's unexpected Noble Prize in Economic Science win in economics based on his prior research on public choice. Public choice theory extends the tools of economics to analyze the behavior of voters, candidates, legislators, bureaucrats, judges and other political institutions. Such an application was unconventional and thus the theory was viewed contemptuously as invasive and imperialist by political science scholars. However, the Noble Prize Win unexpectedly shot public choice theory to intellectual and academic prominence and started gaining traction of acceptance within the mainstream of economic and political thought. Such traction would further be invigorated by the instant popularity of the theory among the Republicans who were then in charge of the US government.
With such veneration, Prof. Kimenyi became part of a small clique of dedicated public choice scholars under the mentorship and stewardship of Buchannan and Tullock. His discipleship at the Center for the Study of Public Choice earned him recognition as an outstanding scholar. Shortly thereafter, he was named one of the ten best young market economists in the USA. Such accolades and continued symbiotic relationship with his mentors and public choice fraternity put his professional career on an upward trajectory as evidenced by his 35 years of an outstanding academic career. Some of his earlier notable achievements include state recognition by the Senate and House of the State of Mississippi for a seminal research on Public Transit that he co-authored with another public choice devotee, Prof. William Shughart. His career path took him to serving top notch institutions like University of Connecticut (UCONN) and Brookings Institution as faculty member and director, respectively.
It was during his tenure at UCONN that I met Prof. I was one of his doctoral students in Economics. He introduced me to public choice theories through his two graduate courses. In the Economics Department, he was highly respected for strict work ethic. Through his networks, I got a chance to attend Outreach Public Choice Summer Conference at his Alma Mater, the Center for Study of Public Choice.
Notwithstanding his professional success as an economist of international reputation, Prof. Kimenyi was a Kenyan. He never forgot his origins. He remained fully engaged in Kenya's public policy deliberation because it was fertile ground for research on the application of public choice theories. Through these engagements, he observed glaringly public policy ineffectiveness because most of the policies were not evidence-based.
Here at home, nothing would exemplify his commitment and love for this country than his contribution towards the establishment of Kenya Institute for Public Policy Research and Analysis (KIPPRA) and his subsequent support to the institution. Prof. Kimenyi relished the idea of coming back home to set up KIPPRA, despite the monetary risks of forgoing lucrative international assignments. The patriotism and the love of his country prevailed upon him to take up the assignment, as civic and moral obligation. He monetarily and emotionally sacrificed to give his country a gift. Such endowment was to be manifested in fulfilling his professional dream of establishing a think tank that would generate evidence-based policies, which he did professional and honorably.
Unexpectedly, several years later in 2008, I retraced Prof.'s footsteps at KIPPRA. I took sabbatical leave from Pennsylvania State University to join KIPPRA's mentorship program. The strategy behind my sabbatical was to pave way for my eventual return to Kenya. Retrospectively, I could have chosen a different path to return home than through KIPPRA. I found an institution with indelible finger prints of Prof. Kimenyi's attributes. High premium was placed on evidence-based policies that emanated from rigorous research as evidenced by published research papers. In my opinion, he had laid a foundation for development of public choice analysis that would unforeseeably become relevant to the analysis of the then on-going democratization process. By the time my engagement ended, I had made my decision to permanently relocate to Kenya. In 2009, I resigned from Pennsylvania State University and joined KIPPRA.
Prof. Kimenyi was a man of the people and a unifier. In the US he and his wife, Irene Kimenyi, were known for their invitation to facilitate Kenya's achievement celebration every 4th of July as Americans celebrated their independence. These invitations were a crowd puller because many Kenyans from different states congregated to his house. At home, he also maintained and nurtured diverse wide web networks of friends. At the core of these networks was a small group of his childhood friends. In many countless visits to Kenya, he would always find reason to get together with his friends to share a meal and get an update of the recent happenings.
During these visits, he would take a day off to visit, Githumu, his rural home, in Muranga County to check on his educational community-based initiatives, like Hekima Girls Secondary School and Githumu Academy but more importantly, to greet his relatives, his friends'parents and other community residents. Such social interactions endeared him to the community such that he became a standard measure upon which Githumu residents compared the frequency of their children's visits. To the chagrin of less frequent visitors, this brought them admonishment from their parents who could not comprehend how a man living 10,000 miles away would see them more regularly than their own children living in Nairobi, 36 miles away.
As a distinguished Economist, Prof. Kimenyi lived the American dream without betraying his optimism on the promise of Africa. His untiring engagement with public policy debate internationally and regionally has sustained African issues on the limelight. Kenya has benefited from his able ambassadorship. As a champion of the private sector debate, Prof. has left us a legacy of deliberate pursuit of evidence-based policies that take roles of private and public sector into account to ensure policy effectiveness. He has also left a plethora of relevant publications for scholars and policy makers to use when analyzing urgent policy issues of constitution implementation.
It for this reason and many more that I pray his spirit endures.
To my good friend and teacher, rest in peace.



Prof Joseph Kieyah, JD., PhD
Acting Programmes Coordinator,
Kenya Institute for Public Policy Research & Analysis (KIPPRA)
Website: www.kippra.org
Email: jkieyah@yahoo.com; Kieyah@kippra.or.ke