Profile
Dr. Ahmed Sidahmed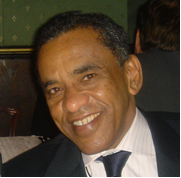 Dr. Ahmed E. Sidahmed is Senior agriculturalist, livestock specialist, ecologist and systems analyst with extensive experience in rural development, NRM, investment in agriculture – especially dry land livestock systems- for rural economic growth. He is experienced in evaluation, management, strategic planning, research and policy coordination, agriculture sector assessment, value chain analysis, competitiveness, marketing and agribusiness promotion, food security and postharvest loss analysis, project design, and implementation. He directed and managed agriculture and knowledge management research programs and was among the first team at IFAD developing the Initiative for Mainstream Innovation (IMI) and led training and capacity development programs. Dr. Sidahmed has developed a strong record as Team Leader, Senior Consultant, Quality Enhancement and Assurance Reviewer and Task Manager for program design, evaluation and review missions by IFAD, FAO, EU, WB, CGIAR ,USAID and AU-IBAR. Dr. Sidahmed has  extensive experience in Africa, Middle East countries and in food deficit pastoral and agro-pastoral areas managed agriculture and knowledge management research programs; was among the first team at IFAD developing the Initiative for Mainstream Innovation (IMI) and led training and capacity development programs.
Dr. Sidahmed holds a BSc in Agriculture (Honors) Major Animal Breeding, from the University of Khartoum, an MSc in Animal Science (Ruminants Nutrition) and PhD in Ecology from the University of California, Davis (UCD). He was a UCD/ USDA Post-Doctoral Fellow in Modeling and Mathematical Simulation of Crop-Livestock Systems at the US Meat Animal Research Center, Nebraska. Dr. Sidahmed performed on-farm small ruminant nutrition and management research while he was employed as Animal Scientist/Research Coordinator with Winrock International for USAID-funded Small Ruminant Collaborative Research Support Program (SRCRSP) in Kenya. He joined FAO in 1986 and shouldered several responsibilities, the last being Senior Operations Officer for the New World Screwworm Eradication Program. He Joined IFAD between 1992 as   Senior Technical Adviser with wide responsibilities of quality assurance, management of research grants, networking and representation of IFAD to various sectoral functions.  He then Joined ICARDA from 2005 to 2008 as Director of Knowledge Management and Dissemination, Director of Diversification of Sustainable Intensification o f the Production Systems and Head of Training and Capacity Development. Dr. Sidahmed is currently honorary Associate Director for Partnership and Development at the College of Agriculture and Environmental Sciences of the University of California Davis.
Dr. Sidahmed participated and continues being a member of several cross agency and international committees and program boards. For example Dr. Sidahmed participated in four of the CGIAR's Intern Science Council (iSC) review panels (for SSA, CWANA and Global), and was among the reviewers of the SC Report on Identifying CGIAR Systems Research Priorities for 2005-2015 He was member/initiator of the major inter-agency groups such as Livestock and The Environment (LEAD), Inter-agency Livestock Development Group (IALDG) wand was Manager and Co-editor of the IFAD/DANIDA/WB   study on "Livestock Services and the Poor - www.ifad.org/lrkm/book/english.pdf.
Dr. Sidahmed enjoys very thorough knowledge of the public-private sectors roles in economic growth through agriculture. He was IFAD's focal point to the OECD/DAC Poverty Network (POVNET) –Agriculture Task Force on Pro-poor Agricultural Growth, and convener / coordinator of the Natural Resource Management and publisher of IFAD website: Livestock and Rangeland Knowledgebase www.ifad.org/lrkm/index.htm
Dr. Ahmed E. Sidahmed, Associate Director for Partnership and Development, International Program Office, College of Agriculture and Environmental Sciences, University of California Davis. USA (asidahmed@ucdavis.edu).
AJFAND is extremely privileged to have Dr Sidahmed as a dedicated and timely reviewer.This support is highly appreciated.Ed.
---
Dr. John Omiti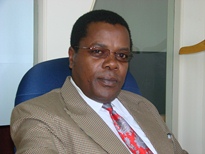 Dr. John M. Omiti is a Principal Policy Analyst and Head of Productive Sector Division with the Kenya Institute for Public Policy Research & Analysis (KIPPRA). He is involved in providing technical guidance and capacity building on policy and strategy formulation to the Government of Kenya in matters related to Agriculture, Trade, Industry, Environment and Natural Resources. Prior to joining Kippra, he was previously a Senior Research Fellow at the Institute of Policy Analysis and Research (IPAR, Nairobi). At IPAR, Dr. Omiti was responsible for design of Agricultural and Industrial Development Strategies. Before joining IPAR, Dr. Omiti worked with the International Crops Research Institute for the Semi-Arid Tropics (ICRISAT) focusing on Natural Resource Management Strategies for small-holder agriculture.
Dr. Omiti has published widely in refereed journals and books. His research interests are in public policy research focusing on agricultural transformation, food security, regional trade, economic geography, poverty alleviation and institutional development at macro and sectoral levels. Dr. John Omiti holds a PhD in agricultural and applied economics from the University of New England (Australia); a Masters degree in Agricultural Economics and a Bachelors degree in Agriculture from the University of Nairobi, Kenya.
Dr. Omiti has been involved in consultancy work for several organizations in a number of countries including Ethiopia, Kenya, Rwanda, Somalia, Sudan and Uganda. He has collaborated with the Nile Basin Initiative (NBI, Entebbe) on food security studies and regional agricultural trade (with Nile Equatorial Lakes Subsidiary Action Programme). He has conducted consultancy assignments, in multidisciplinary teams, for such organisations as the International Livestock Research Institute (ILRI), Futures Agricultures Consortium (FAC, IDS-Sussex), NGOs (e.g., FARMAFRICA and Action-Aid) and development partners such as FAO, European Union and the World Bank.

Dr Omiti is a very dedicated reviewer for AJFAND. His support is highly valued. ED. AJFAND