Editorial
IN MEMORY OF NELSON MANDELA
"Take it to the farmer"; those are said to be some of the last words of Dr Norman Borlaug, a scientist who is credited with saving billions from starvation as his technologies led to a huge increase in food grains across the world and especially in Asia. That is what was called the GREEN REVOLUTION.  As the world marks the centenary of Dr Borlaug's birth in 2014, Africa is still looking for its own green revolution.  It is no point restating that in the continent, many still go hungry, many are micronutrient deficient and child malnutrition still poses a major challenge. Dr Borlaug committed many years of his life in research, looking for solutions to world hunger because he just did not see why children should be left to go hungry. His pursuit for answers took personal sacrifice.
The World Food Prize was started by Dr Borlaug to honour scientists who spend a lifetime addressing these same issues.  Since Ambassador Quinn got to the helm about 15 years ago, the World Food Prize Forum has grown immensely, and now has to manage more than 1500 delegates: scientists, practitioners, policy makers, civil society groups and individuals, private sector, and most of all young people from across the globe in October for weeklong events. It is really amazing. This year biotechnology was recognized as the 3 recipients shared the 2013 prize.
The newly introduced Borlaug Prize for Field research goes to scientists below 40 years and this year it went to a Kenyan, Dr Charity Mutegi, for her work on Aflatoxins. Charity and I shared an afternoon session in October 2013 with more than 70 American teachers that came to the forum with their students. Ambassador Quinn rounded up Africans in Des Moines and amazingly 15 African countries were represented at Charity's Award celebrations.  The Africans who attended said this was the first time they had ever come together like that.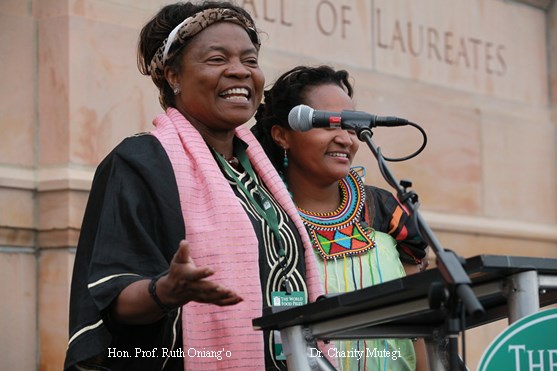 Congratulations Charity, you made us proud and we wish you a great future.
"It always seems impossible until it's done". This is one of Nelson Mandela's most popular quotes, made on the day he was released from prison
You know what? I still believe in smallholder farmers.  This quote by my icon Nelson Mandela truly encourages me to persist in what I believe to be right. For now, there is need to support smallholder farmers across the globe. It is not impossible to achieve good results with smallholder farmers. Most of these in sub-Saharan Africa are women.
I always get surprised when I hear it stated that smallholder farming can be wished away.
I usually tell friends and others who visit Africa not to stay in big cities and imagine that that is where most of the population is. Capetown is great, and in many respects mimicks any city in the industrialized world. But what part of Capetown do we see when we visit? "I love Nairobi!" And I ask: "what part of Nairobi do you like, the slum or the upper income Nairobi?" I also like attending the World Food Prize Forum. Those who were close to Dr Borlaug say he did not even like the mention of all the awards he was getting; he continues to get awards even in death. Yet there was this aura of "authority" around him that drew attention to him. His humility said it all.
Dr Borlaug did not believe in rhetoric nor did he fancy sitting behind the desk writing papers. Long board meetings bored him; he would rather have been out there on a smallholder farm, working with and listening to the farmer.  He believed in action, getting things done. He grew to be a wise man and would come up with very unique sayings of wisdom, somewhat predictive.  He was indeed a humble, unique individual. Does this not remind us of so many others we know whose works have transformed the world? I believe truly that such people are born to serve humanity and the things they do that impact the world are often done at the expense of worldly pleasures and many times at major personal cost. If we want to change the world, we have to be selfless. Greed and self-serving actions in leaders cannot change the world. To change the world, even the little bit around you, you have to let go of something. The 2013 World Food Prize Forum set in motion celebrations to mark the centennial year of Dr Borlaug's birth. It is awesome, to be able to leave a legacy like that, where your own people remember you every year with the rest of the world because of the impact you made globally. Iowa was the home state of Dr Borlaug and there is a picture of him with his cousin as young boys on this small Iowa farm, next to a small 2-roomed house which was his elementary school. He came from very humble beginnings, and then destiny took him to a direction which I am sure he never imagined, and tirelessly worked on research to get a technology that could address the wheat rust that was destroying the crop, a main staple for so many across the globe. Look at Bill Gates; he took the computer to a different level and now uses billions of dollars of his profits to do good around the world. The normal school environment just did not suit people like Richard Branson, and Steve Jobs. My heroes in Africa that come to mind right away are the iconic Nelson Mandela and late Wangari Mathaai. But then around us, there are many selfless and unique individuals, who can be recognized for their humility, selflessness, and service to humanity. Many, of course, go unrecognized, many are viewed as strange, many do not have family or government support system and many might even be deterred by personal threats.
I am happy to be associated with Des Moines Iowa, a town whose name few people can pronounce properly the first time they say it, the capital city of Dr Norman Borlaug's home state. I wish to commend what they are doing to honour their son who made such huge global impact. For this, a lot of credit goes to Ambassador Kenneth Quinn, President and Chief Executive of the World Food Prize Foundation.
The World Food Prize, like David Lambert puts in his speech to the Rotary Club during the World Food Prize Forum week, has become the Nobel Prize of Food and Agriculture. The World Food Prize has become a unique yearly event not to miss. As Kenya devolves to 47 administrative counties, each county needs to recognize its unique individuals and elevate those individuals to national recognition. Governors and their executive teams should select a number of places and learn from them how they have recognized the unique individuals. Gagging the media and being afraid of freedom of speech and of criticism does not help. I do not subscribe to personal attacks; however, debates on what is potentially a good idea are healthy as they help to find solutions to the myriad problems we encounter in the world.
My mother would tell so many people:"Ruth would hold my skirt and ask so many questions which I could not answer". May her soul continue to rest in eternal peace. I always remember my parents around this time because they died 2 years apart, and were buried on same date, 23rd December. They taught me to be humble. True to my mother's word, I continue to ask tough questions. Why is it so difficult to help smallholder farmers out of poverty?  They feed us all.
So, next year will see celebrations to mark Norman Borlaug's 100th birthday in Iowa, in Washington DC where  his statue will be placed in Congress, in Mexico where most of his research took place, at Texas A& M which was his  main University that maintained an office for him even when he was away, in India, where his technologies had greatest impact,  at the University of  Minnesota St Paul where he did his doctoral studies, and in Africa, where he left us the Sasakawa Africa Association (SAA); his last visit was when he addressed the Africa Fertilizer Summit in Abuja, Nigeria in 2006. His health had started to fail then. At least before he died, he had planted a seed in Africa, and that is the seed (through Sasakawa Africa Association we are nurturing to take to a different level, a level of impact. So what is the connection with Kenya? Gagging freedom of speech does not encourage innovation and creativity. Gagging the media and in this day of ICT just creates more problems for the State than it is trying to solve. Of course the media itself must self regulate and act prudently, and maturely. I thought the state should worry more about unofficial channels of communication, instead of putting resources to follow journalists whose work is out there in the public domain?
Innovators such as Dr Borlaug come out of environments that allow free speech and free thought.  In the past, of course, innovators have often gone against the grain, and have sometimes been viewed as crazy, anti social, and so on. I believe it is because society expects most of us to fit within a certain norm, and those who do not fit could be either supported or destroyed by the existing system.  I have yet to come across an interview where Dr Borlaug talks about the challenges he faced as he grew up and what really informed him to get out there to address the pending hunger and possible starvation in India. I also recently visited India where Dr MS Swaminathan, the first World Food Prize Laureate, worked very closely with Dr Borlaug in India, to make things happen.  MS (as we fondly call him in close circles) is very well respected in India for his major contribution towards helping feed India, and working with Dr Borlaug to realize the Green Revolution.
Dr Norman Borlaug cared for the smallholder farmer and in Africa, 60 to 80 % of these are women. He believed in the youth, in passing the baton ( as a fast sprinter in my youth, my best spot was relay- one where you had your 4 fasted runners and  winning depended on how best the baton was passed). As such on the last day of the World Food Prize Forum, there is a Borlaug Youth Institute which brings together high school students to from Iowa and other participating states to share their winning essays . Also sharing their stories are students who will have spent 8 weeks overseas attached to an international agricultural research centre. These must be life changing experiences for these 17-18 year olds.  As I sit there listening to these young people, I marvel at how brave they are. Kenya benefits from these attachments because of the number of international agricultural research centres the country hosts. Another Norman Borlaug connection is that the 2nd recipient of The Borlaug Young Scientist Award, Dr Charity Mutegi was a Borlaug Fellow the previous year. Therefore, the Borlaug effect has spread all over the world.
There is a lot to learn from all this. First, the kind of conducive environment that is needed for innovation and creativity; second, there is need to recognize, honour and reward achievers even way after they have gone; and lastly, each one of us, wherever we are, needs to go a step further to do good for humanity, at least work towards eradication of hunger in our midst. That way we can leave a lasting legacy.
So let us connect through celebrating Norman Borlaug's 100th birthday in 2014, March 25.
In the same year, the United Nations will mark Nelson Mandela's birthday, July 18 as Nelson Mandela Day. "It always seems impossible until it's done". Combining these two icons, Mandela and Borlaug makes a lot of sense.
Ruth Oniang'o
Editor-in Chief, AJFAND