Editorial
By connecting, each one of us can do good wherever we are
by Ruth Oniang'o
Recent events have made many of us experience both highs and lows emotionally.
As I prepare the editorial for this issue, the Malaysian Jet Flight MH 370 has not yet been traced. As someone who travels a lot by air, I never take my safety for granted. I really feel for the passengers as only they know what happened. We feel for their loved ones too, as they yearn to know what happened; they just cannot move on or do anything until they know. But who will tell them? I always marvel at how a plane can stay up in the air, for hours, flying over vast land and forests and expansive seas. I find it so amazing that when we land I normally say a prayer: Thank you God.
Not knowing must be a terrible emotional state to be in. The Boeing 777 is state- of- the art plane, all automated, and flight MH 370 was manned by an experienced Captain, the weather was clear on take-off, and then it just vanished. Where is it? Where are all the 239 souls? What must the loved ones be going through? It is hard to imagine.
Each one of us can help by connecting with the missing passengers, spiritually, whether we know them or not. The loved ones, the airline management, the makers of the aircraft, would- be passengers and virtually everyone deserves to know what surely has happened. What else can we do? At the end of the day we are just humans. I have taken this very personally and put the whole issue in my deep thoughts. While all this was going on, another piece of news came my way.
Prof. Isaac Akinyele of the University of Ibadan, Nigeria died suddenly. A professor of food and nutritional sciences and with wide international reach had died following high blood pressure and diabetes complications. I have known Prof Akinyele for many years, and have found ourselves addressing similar issues in the food and nutrition space. I feel for his family and pray for comfort and strength for them to be able to move on. He has also left colleagues in both Nigeria and other parts of the world; he has left students some of whom tell me already of their disappointment at his early departure. We have created a page on our journal website to honour and remember him.
Prof Akinyele, do rest in peace and let us all who care for you stay connected with you in spirit. I believe even in death one is never alone.
I must surely end this editorial on a positive note. The achievement of young Kenyan, Lupita Nyong'o, cannot go unmentioned. It did not come as easily as it sounded or looked. Although only 29, and winning at first nomination, Lupita struggled in Kenya to become an actor, but even with supportive well placed parents, she had to leave Kenya in order to make it. Lupita proudly brings to Kenya the first Oscar ever. I am proud of her. I do not know Lupita personally, but I feel like I do. She is a role model for the many struggling but hopeful young people out there.
She landed a role in Twelve Years a Slave, based on a true story and directed by Steve McQueen who became the first black director to win an Oscar. Brad Pitt, Angelina Jolie's partner bet on this movie, put his money there, acted in it, and it won!
At the end of the day, we are all members of the human race, and modern internet applications are making it possible for us to instantly know and connect with something of interest that may be going on thousands of miles away. AND, one can connect with it and offer emotional support, or feel emotionally uplifted.
Let me end with this picture of African kids, sharing a meal and looking happy. As someone who is always concerned with child hunger and malnutrition, issues that plague the African continent and make our children miserable, I am happy to see happy kids sharing and enjoying food. I lifted the picture from a February 24, 2014 article written by Jaspreet Kindra of IRIN where he was giving credit to Rwanda, which has been highlighted in a UNICEF 2013 Report as having reduced child malnutrition by adopting homegrown solutions.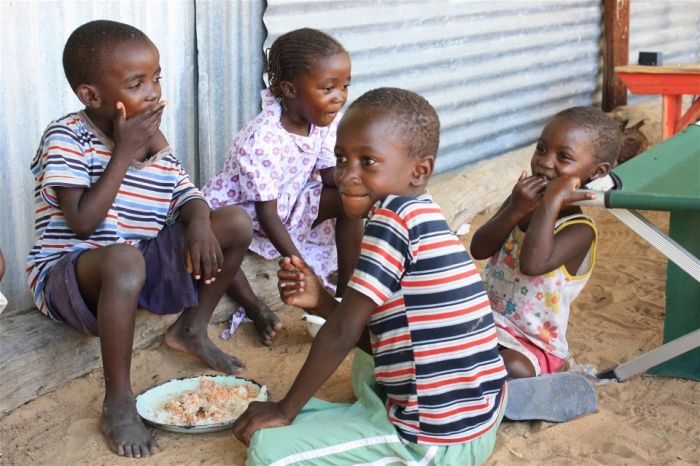 Children in the Haukongo household share their food
© Jaspreet Kindra/IRIN

Let us all unite to fight child hunger and malnutrition.
END