Guest Editorial
My Personal Reflections of Dr. Borlaug's Work and It's Global Impact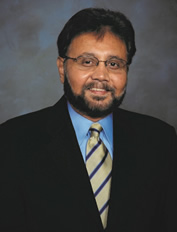 By Amit Roy
IFDC President and CEO
"Food is the moral right of all who are born into this world."
Dr. Norman Borlaug's tireless research and resilient spirit sparked a wave of agricultural productivity that is credited with saving the lives of 1 billion people. I am proud to have called him my adviser and mentor. As a valued member of the IFDC board of directors from 1994 to 2003, Dr. Borlaug helped guide us out of the research laboratory and into the field, promoting efforts across the agricultural value chain.
Dr. Borlaug's interest in agriculture began as a child growing up in a rural farming community in Iowa. He displayed great work ethic and curiosity – wondering why some plants grew better than others.
After receiving his early education in a one-room schoolhouse, Borlaug attended the University of Minnesota at the urging of his grandfather, who regretted his own lack of education. While in Minneapolis during the Great Depression, Borlaug saw that many did not have enough to eat. This further sparked his interest in food production. He earned a master's degree and doctorate in plant pathology.
After World War II, Borlaug left a lucrative job at the DuPont chemical company to work for a joint hunger initiative of the Rockefeller Foundation and the Mexican government. The program later became the International Maize and Wheat Improvement Center (CIMMYT).
Dr. Borlaug and his colleagues developed improved varieties of wheat that allowed farmers to drastically increase yields. These new varieties (known as "semi-dwarf") responded well to increasing amounts of fertilizer, unlike traditional wheat varieties that would fall over if their seed heads grew large and heavy.
As a result, in the 1960s Mexico increased its wheat production sixfold from 1940s levels.
At this time, food production in India and Pakistan could not keep up with population growth. The two governments asked Borlaug for help. After receiving and using the new seed varieties and fertilizer, farmers' wheat production skyrocketed. Soon the countries became self-sufficient in the cereal crop, sparking the Green Revolution. Borlaug's research in improved varieties was soon applied to rice.
It has been estimated that about half of the population consumes grain descended from Borlaug's wheat varieties.
In the foreword of a biography on Dr. Borlaug, former U.S. President Jimmy Carter wrote, "My good friend Norman Borlaug has accomplished more than any other one individual in history in the battle to end world hunger."
Dr. Borlaug was one of only seven people to receive the Nobel Peace Prize, the Presidential Medal of Freedom and the Congressional Gold Medal (alongside Martin Luther King, Jr., Elie Wiesel, Mother Teresa, Nelson Mandela, Aung San Suu Kyi and Muhammad Yunus). He also was given the Padma Vibhushan – the second-highest civilian honor given in India. In Borlaug's Nobel Prize lecture, he called adequate access to food "the first essential component of social justice."
Dr. Borlaug was a teacher as well as a scientist. He became a distinguished professor of international agriculture at Texas A&M University in 1984. Until 2008, Borlaug taught one semester a year, mentoring young scientists from all over the world. Today, Texas A&M's Norman Borlaug Institute for International Agriculture integrates research, training (extension) and education to benefit developing countries around the world.
From 1986 until his death in 2009, Dr. Borlaug was president and co-founder of the Sasakawa Africa Association and leader of the Sasakawa-Global 2000 Program, along with President Carter. Dr. Borlaug led SAA in its efforts to improve the lives of smallholder farmers across Africa.
In 1994, I was delighted to welcome Dr. Borlaug to the IFDC board of directors. His presence and input underscored the significant role that fertilizers play in feeding the world. Dr. Borlaug often called improved seeds the "catalyst that ignited the Green Revolution" and mineral fertilizer the "fuel" that powered it.
In 2006, at age 92, Dr. Borlaug traveled to Abuja, Nigeria, to give the keynote address for the Africa Fertilizer Summit, one of the largest meetings in history to focus on Africa's food issues. He stayed for the entire five-day event. During his keynote address, he emphasized that efficient fertilizer use should be a cohesive part of any agricultural strategy. 
Dr. Borlaug championed innovation. He recognized that food production would have to drastically increase to feed the world's ever-growing population – expected to reach 9.6 billion by 2050. In a personal letter to me, Dr. Borlaug wrote, "The work of the Green Revolution is not yet finished and I believe it will take a new round of technological advancement, political commitment, commercial development and a lot of hard work to complete the job." He went on to call for more advanced fertilizer research in synergy with plant genetic studies. He also emphasized making these products affordable and accessible to farmers.
Dr. Borlaug's impact endures. His words inspired the creation of our Virtual Fertilizer Research Center, which is fostering the development of new fertilizers to help feed the world's expanding population.
We remain vigilant in our continued efforts to develop new agricultural technologies and to get these innovations into farmers' hands. About 2.8 million rice farmers in Bangladesh are using fertilizer deep placement to increase yields and incomes. Across Africa, we're helping strengthen the fertilizer supply chain and connecting farmers to profitable markets.
Dr. Borlaug shows us that hard work, a full mind and – most of all – a relentless and kind spirit can better the world for generations to come. Agricultural scientists are still learning from his work and using it to feed our growing population.
Let us resolve to not simply remember Dr. Borlaug but to honor him by continuing to reach for his dream with the same belief that "Food is the moral right of all who are born into this world."