Excerpt
Excerpt of English translation of introduction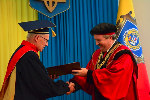 Dr. Huub Lelieveld receiving the honorary degree
On October 14th Huub Lelieveld, President of the Global Harmonization Initiative (GHI) was awarded upon the decision of the Academic Council of the University the Honorary Degree of Doctor of the National University of Food Technologies. The certificate was handed over by the University Rector Serhiy Ivanov and Scientific Secretary Nadia Voloshchenko.
Excerpt from the English translation of the introduction by Tatiana Mostenska, the Vice-Rector of the university:
Huub Lelieveld was born on February 12, 1944 in The Hague. He received his education at The Hague University of Applied Science in 1965. Huub Lelieveld is President of the Global Harmonization Initiative, Member of the Executive Committee and a Past-President of EFFoST (European Federation of Food Science and Technology), Founder and Past-President of EHEDG (European Hygienic Engineering and Design Group). He is a fellow of IAFoST (International Academy of Food Science and Technology), a fellow of IFT (Institute of Food Technologists), served on the Governing Council of IUFoST (International Union of Food Science and Technology) and has been Chair of the Nonthermal Processing Division and the International Division of IFT.
At Unilever he was responsible for hygienic processing and plant design as well as novel processing technologies. His scientific interests embrace food preservation, continuous fermentation, microwaves, electric and magnetic field processing, ultra-high pressure treatment, enzyme applications, etc.
He is lead editor of "Hygiene in food processing", the "Handbook of hygiene control in the food industry" and "Food preservation by pulsed electric fields: From research to application". He is co-editor of several other books, including "Ensuring Global Food Safety: Exploring Global Harmonization", "Hygienic design of food factories" and the recently published "Food safety management: a practical guide for the food industry". He wrote chapters for many books and encyclopaedia, hundreds of scientific articles and articles for magazines and presented hundreds of papers, globally. He is a member of editorial boards of books, journals and magazines. He initiated "People, planet, prosperity and the food chain", in short P3FC to remind the food industry that besides caring for shareholders, they also share responsibilities for planet and society. Being a prominent authority in the world of food science, Huub Lelieveld is extremely active in assisting EU neighbouring countries to approach the European values and achievements. For nearly eight years Prof. Lelieveld relentlessly supported the integration of our University into the European Community of Food Scientists. He kindly accepted our invitation to become a member of Scientific Committees of International Conferences held by our University. He directly promoted our joining EFFoST, EHEDG and GHI.
Due to his outstanding achievements in European food science, his unquestionable authority within the World Community of food specialists, Huub was presented the 2011 EFFoST Lifetime Achievement Award, as well as an IUFoST award for the Advancement of Food Science and Technology Worldwide.
Huub Lelieveld - Email: huub.lelieveld@globalharmonization.net