Profile
Prof. Grace Mbagaya
Grace Mbagaya is an Associate Professor in Community Nutrition and Public Health in the School of Agriculture and Biotechnology, Department of Family and Consumer Sciences University of Eldoret Kenya. Prior to this, Mbagaya had been in the School of Education, Department of Home Science and Technology at Moi University where she was head of Department and also taught a number of courses.
Prof Mbagaya holds a Ph.D (Human Nutrition) from Moi University, MSc. (Applied Human Nutrition) and a B.Ed. (Home Economics Ist Class Honours) University of Nairobi. In addition, Mbagaya holds a Post Graduate Diploma in Food and Nutrition Security from Wageningen University Netherlands and a Certificate in Nutrition in Emergencies from St Teresa's Centre Lodwar, Kenya.
Mbagaya has developed a distinguished career in teaching, research and mentoring of Undergraduate, Masters and Ph.D students in University of Eldoret, Moi and other Universities in the country. Over the years, Prof. Mbagaya has received a number of research grants and fellowships including: DAAD, Rockefeller Foundation, African Academy of Sciences, NUFFIC,IDRC and CHE.
Prof. Mbagaya has had the opportunity to present her research findings in both local and international conferences where she had a chance to interact with other scholars in the same or other professions. Prof Mbagaya has co-authored several research publications in peer reviewed Journals some of which she serves as a reviewer. She has served as internal and external examiner in Schools of Public Health in a number of universities. Apart from teaching, Prof. Mbagaya has been involved in the review and development of undergraduate and post graduate programs in her Department.
Prof. Mbagaya has a wealth of experience having served 10 years in the civil service in the Ministries of Agriculture and Culture and Social Services as an Extension and Training officer and also as a Community and youth development office. Mbagaya has about 24 years of teaching at the university.
Prof. Mbagaya's research interests include: Maternal and Child Nutrition, Nutrition and HIV/AIDS, Nutrition Supplements, Food Security, Gender and Agriculture, Nutrition Education, Nutrition Interventions, Diet, Overweight, Obesity and Physical and Activity Patterns.
Prof. Mbagaya is grateful to a number of individuals and Institutions that have contributed to her academic and professional growth. I owe a lot of appreciation to my family that has been very supportive and Hon. Prof. Ruth K.Oniang'o for her inspiration, guidance and moral support. For indeed, she has been my teacher and mentor over the years.

Some recent selected publications
Wandia, F.B. Ettyang, G.K and Mbagaya, G.M. (2014). The prevalence and Factors Associated with Overweight and Obesity among Nursery School Children aged 3-6 years in Eldoret Municipality. AJFAND, Vol.14 No 5. Pages 2072-2086. ISSN 1684-5374.


Magaju,P.K. Ettyang G.A. and Mbagaya, G.M.(2013). Factors Associated with the Prevalence of Under-nutrition in Preschool Children in Matisi Peri-Urban Location, Trans-Nzoia District, Kenya. Journal of Biology, Agriculture and Healthcare,Vol.3 No. 2. Pgs.61-68.ISSN 2224 Online.


Onyango, A.C. Walingo,M.K. Mbagaya,G.and Kakai, R. (2012). Assessing Nutrient Intake and Nutrient Status of HIV Seropositive Patients Attending clinic at Chulaimbo Sub-District Hospital, Kenya. Journal of Nutrition and Metabolism. Vol.2 Article 1D 3065.Hindiwai Publishing Cooperation.


Mbagaya, G.M. and Mbato, E.L. (2011). Factors Influencing the Consumption and Standards of Bottled Drinking Water in Nairobi, Kenya. Global Journal of Pure and Applied Sciences, Vol. 17,No. 2 Pgs. 149-153.Bachodu Publishing Co.Ltd Nigeria. ISSN 1118-0579.


Omondi, D.O.Walingo, M.K.Mbagaya, G.M and Othuon, L.O.A.(2010). Pre-intention Mediators within the Theory of Planned Behaviour Applied to Dietary Practices Among Type II Diabetics: What is the position of Perceived Dietary Knowledge? Asian Journal of Medical Sciences Vol.2 N0.6 Pgs. 259-265.ISSN 2040-8773 Maxwell Scientific Organization.
Grace was my student, scoring a First Class undergraduate degree. She has made me very proud and is a very keen, thorough and timely reviewer for AJFAND. Stay blessed Grace. Ed. AJFAND
---
Dr. Bruno Lemos Batista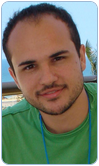 Bruno holds his Pharmacy graduation in the Federal University of Alfenas (UNIFAL,Alfenas, Minas Gerais, Brazil, 2004) with specialization in Clinical Analyses (2005). In UNIFAL worked as a researcher on the topic Coffeaarabicaand the antioxidant properties of the beverage. He obtained his MSc in Toxicology in the Faculty of Pharmaceutical Sciences, University of São Paulo (USP-FCFRP, RibeirãoPreto, São Paulo, Brazil, 2009). His MSc focused on trace elements in biological samples using inductively coupled plasma mass spectrometry (ICP-MS). Worked as researcher in Industrial and Technological Development (DTI) in the National Council of Research and Development (CNPq, Brazil, 2009) on the determination of metals and pesticides in foods. His PhD, developed in USP-FCFRP(Brazil) and University of Aberdeen, Scotland (Aberdeen, Scotland, United Kingdom), was ended in 2012. He worked with chemical speciation of arsenic in foods, with emphasis on the metabolism of arsenic by different rice cultivars and identification and quantification of phytochelatins using liquid chromatography coupled to mass spectrometry simultaneously with plasma mass spectrometry with electrospray, both (HPLC / HR-ICP-MS / HR-ESI-MS). It has over 31 published articles in the areas of analytical chemistry, toxicology, food analysis and metabolism of chemicals. He obtained his post-doctoral certified in 2014, working with isolated fungi from the rhizosphere of rice for evaluating bioremediation and absorption of nutrients. Since 2013 is Professor in Analytical Chemistry in the Federal University of ABC (UFABC, Santo André, São Paulo, Brazil) and member of the committee on food contaminants of National Agency of Sanitary Surveillance (ANVISA, Brasília, Distrito Federal, Brazil) supported by the Joint Expert Committee on Food Additives (JECFA/WHO).
His main publications:
Bruno Lemos Batista; Meher Nigar; Adrien Mestrot; Bruno Alves Rocha; Fernando Barbosa Júnior; Adam H. Price; Andrea Raab; Jörg Feldmann. Identification and quantification of phytochelatins in roots of rice at long-term exposure: evidence of individual role on arsenic accumulation. Journal of Experimental Botany. 2014, 65,1467-79.


Batista, Bruno L.; Souza, Juliana M.O.; De Souza, Samuel S.; Barbosa, Fernando. Speciation of arsenic in rice and estimation of daily intake of different arsenic species by Brazilians through rice consumption.Journal of Hazardous Materials (Print), v. 191, p. 342-348, 2011.


Batista, Bruno Lemos ; Nacano, L. R. ; FREITAS, R. ; Souza, Vanessa Cristina de Oliveira; BARBOSA, F. . Determination of Essential (Ca, Fe, I, K, Mo) and Toxic Elements (Hg, Pb) in Brazilian Rice Grains and Estimation of Reference Daily Intake.Food and Nutrition Sciences, v. 03, p. 129-134, 2012.


BATISTA, B. L. ; Souza, Vanessa Cristina de Oliveira ; da Silva, F.G. ; BARBOSA, F. Survey of 13 trace elements of toxic and nutritional significance in rice from Brazil and exposure assessment. Food Additives and Contaminants: Part B, v. 3, p. 253-262, 2010.


BATISTA, B. L.; Nacano, L. R.; SOUZA, S. S. ; BARBOSA JUNIOR, F. . Rapid sample preparation procedure for As speciation in food samples by LC-ICP-MS. FOOD ADDIT CONTAM A, v. 29, p. 780-788, 2012.


BATISTA, B. L.; RODRIGUES, J. L.; SOUZA, S. S.; Souza, Vanessa Cristina de Oliveira; BARBOSA, F. Mercury speciation in seafood samples by LC ICP-MS with a rapid ultrasound-assisted extraction procedure: Application to the determination of mercury in Brazilian seafood samples. Food Chemistry, v. 126, p. 2000-2004, 2011.


RODRIGUES, J. L.; Juliana Mara Serpeloni ; BATISTA, B. L.; SOUZA, S. S.; BARBOSA, F. . Identification and distribution of mercury species in rat tissues following administration of thimerosal or methylmercury.Archives of Toxicology, v. 84, p. 891-896, 2010.


BATISTA, B. L. ; RODRIGUES, J. L. ; Nunes, J. A. ; Souza, Vanessa Cristina de Oliveira; BARBOSA JUNIOR, F. . Exploiting dynamic reaction cell inductively coupled plasma mass spectrometry (DRC-ICP-MS) for sequential determination of trace elements in blood using a dilute-and-shoot procedure. Analytica Chimica Acta, v. 639, p. 13-18, 2009.


RODRIGUES, J. L. ; BATISTA, B. L. ; FILLION, M. ; PASSOS, C. J. S. ; MERGLER, D.; BARBOSA JUNIOR, F. . Trace element levels in whole blood of riparian villagers of the Brazilian Amazon. Science of the Total Environment, v. 323, p. 530-536, 2009.


Batista, Bruno Lemos; Grotto, Denise; Rodrigues, Jairo Lisboa; de Oliveira Souza, Vanessa Cristina; Barbosa Jr., Fernando. Determination of trace elements in biological samples by inductively coupled plasma mass spectrometry with tetramethylammonium hydroxide solubilization at room temperature. Analytica Chimica Acta (Print), v. 646, p. 23-29, 2009.

Dr. Bruno Lemos Batista is a keen, thorough and timely reviewer who approached us himself, offering to assist with the review process for AJFAND. We value your support Dr. Bruno and wish you all the best in your career. Ed. AJFAND