Editorial
Regardless of what agricultural research we do, nutrition is KEY
As we move on into 2015, some of us are wondering where the world is truly headed? Is the human race losing grip of world events? The security situation is dire and no one seems to have an answer, planes are falling from the skies with investigations not being able to right away pin point to the cause. Too many people are being killed with no recourse to their families. This is supposed to be a time of advanced technology, and availability of exceptional expertise. Yet, events continue to happen for which we have no answers. From my own corner of the world to far- off lands, human beings are committing heinous crimes, hitherto unheard of. I have always had great respect for certain institutions whose work is focused on ensuring there is adequate food for all of humanity. The CGIAR system, with its 15 centers undertakes great agricultural research work across the globe. Today I will mention just a handful. Let me mention upfront that more institutions in the private sector and the NGO community are doing commendable work and need to be uploaded. The time to address not just food quantity but also quality including nutrition is now. Anyone or any institution dealing with food in whatever capacity must think of quality and safety. Consumer awareness is growing on these issues and it therefore incumbent on these of us concerned to ensure we address their needs.
IFPRI, International Food Policy Research Institute, one of the most highly respected CGIAR centers has just released its 2014/2015 Global Food Report which makes very good reading. You can find it at here http://www.ifpri.org/event/launch-ifpris-2014-2015-global-food-policy-report
It makes very good reading. The main issues that were addressed are reflected in the questions below.
How can middle income countries, which despite becoming more affluent are still home to the majority of the world's hungry people, address their food and nutrition security challenges?
What is the role of improved sanitation in shaping key nutrition outcomes, especially for children?
How can we support smallholder farmers in "moving up" in agriculture or "moving out" of the sector altogether?
What social protection measures help shield vulnerable people effectively and efficiently against an increasing number of shocks?
How can we best build and regulate the capacity of actors along the food chain to tackle food safety and health risks?
How should we address food and nutrition security of people living in conflict zones?
What policies can support the sustainable development of the aquaculture sector as the global demand for fish skyrockets?
What have been the major developments in regions and countries where poor and hungry people reside?
What normally strengthens IFPRI's reports are the analyses they carry out and the data they present. I also like the emphasis put on health and nutrition, and food safety in this particular report. The point is also made to the effect that economic growth does not necessarily go with hunger and poverty eradication.
CIAT is a CGIAR center that focuses on tropical agriculture. I serve on the Board of Trustees and am proud that right now the news on the super bean is all over the place. It reads: "Responding to fears that bean production will take a big hit from global warming, CIAT scientists have identified about 30 "elite" lines showing tolerance to temperatures 4 degrees Centigrade above the crop's normal "comfort zone." Research on these beans, which is supported by the CGIAR Fund and documented in a recent CGIAR report, represents a major contribution to the CGIAR Research Programs on Grain Legumes and on Climate Change, Agriculture and Food Security". I have taken this straight from the CIAT website. More information can be found at: http://www.ciatnews.cgiar.org/2015/03/24/beans-that-can-beat-the-heat/#sthash.RgQM5Bpj.dpuf"
Beans as shown below mean a lot for Africa. They constitute the main protein source for the poor in Africa. As I work with smallholder farmers in western Kenya, most of them women I am aware of the losses they have been incurring lately in their bean crop. When there is too much rain, the bean plants and even flowers are destroyed. When the rains come late, the bean plants dry up and do not even flower. When rains are erratic, the bean plants are caught up in this cycle and sometimes do not complete their growth cycle.
With the work being conducted by HarvestPlus, it is hoped that the beans are also highly nutritious, rich in iron. There is increased awareness about nutrition and with little understanding, consumers are swallowing supplements and following all kinds of nutrition leads. So, who should guide consumers in this quest?
The UN's SDGs will soon be concluded. I hope, that unlike the MDGs, Nutrition will feature prominently in the Sustainable Development Goals. Please the commentary we have carried by Dr Patrick Webb of Tufts University in the USA.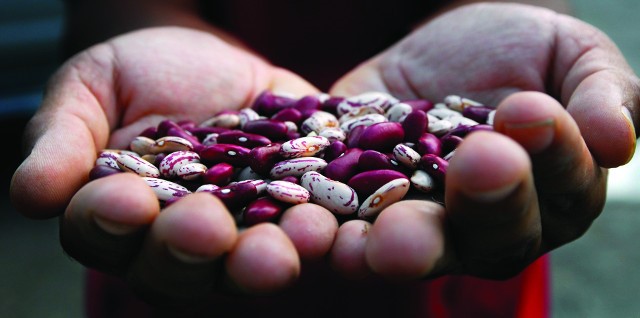 Source: CIAT website
ILRI 40 years: Healthy animals equals healthy, productive people
The International Livestock Research Organization marked 40 years last year, 2014.
Unfortunately I was not around to celebrate with them in Nairobi then. I must say the work they do especially tackling livestock diseases is so crucial, not just to save the livestock themselves but also humans who contract some of these same diseases. Is it possible that even with concentration on Climate Smart agriculture, we can still produce more meat for the poor?
There is very little consumption of meat by families in western Kenya communities where I work. As I work in these communities, I am always reminded of the great research work done by my good friends Dr Charlotte Newman and the late Prof. Nimrod Bwibo that showed that a certain amount of meat in the diet confers great health benefits to children. To quote from one article [1]: "children given meat showed fewer periods of low activity and more leadership behaviors and initiative than did children provided entirely with vegetable source foods. These results support our previous findings from naturalistic studies in the same community that both diet quantity and quality are important for children's development".
To conclude, nutrition affects our wellbeing, and all of us need some meat in our diets, unless we choose to be vegetarian. Children need meat products in their diet.
1Sigman, M, Whaley, S E, Neumann, CG, Bwibo, N, Guthrie, D, Weiss, Robert E, Liang, Li-Jung and S P Murphy Food & Nutrition Bulletin, Volume 26, Supplement 2, June 2005, pp. 202-212(11).

Ruth Oniang'o
Editor-in-Chief
AJFAND