Personal Statement and Goal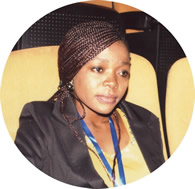 Consolata Musita
Email: musita.consolata@gmail.com [Intern-AJFAND]

My name is Consolata Nolega Musita from Kakamega County in Western Kenya. I attended Lugulu Girls High School (2003-2006) and attained a mean grade of A- in the Kenya Certificate of Secondary Education (KCSE). I have a Bachelor of Science (BSc.) in Foods, Nutrition and Dietetics from Kenyatta University, having graduated in 2012 with a First Class Honors.

I have an interest in the field of food science and nutrition, stemming from the fact that nutrition plays an important role in the health of any individual, which in turn impacts either positively or negatively on the community, country and the world as a whole.This makes me passionate about helping people especially the vulnerable and marginalized achieve good health through good nutritional practices. This passion is guided by my professional goal which is to work in a dynamic and progressive environment which enables me to utilize my knowledge and skills while contributing positively to the society.
It is important to note that for people to achieve good nutritional status, they have to access adequate, safe and nutritious food all the time; which are key components of food security. However, the current food security situation is challenging given the diminishing food production systems especially in developing countries. Therefore, it is against this backdrop that I have the desire to improve my knowledge and experience in this area by pursuing a Masters of Science (Msc.) in food science and nutrition. I believe this will expand my knowledge and give me a better platform to positively impact the lives of many people (especially the marginalized and vulnerable rural populations) by helping alleviate food insecurity and malnutrition. Since I am also interested in pursuing a professional career focused on research, I believe it will equip me with skills in the area of research as an important tool which provides information required in solving the challenges of food insecurity.
My attachment to ROP/AJFAND is a God-given opportunity since I believe it will have a great impact on my career as an aspiring scientist and an agent of positive change in the society. I believe it will enable me gain vast knowledge and experience not only in food science and nutrition but also in the area of scientific paper writing, editing, reviewing and publishing while appreciating the importance of e-journals in information transfer. Besides that I will also have the opportunity to contribute to the growth of ROP/AJFAND in my capacity as an intern as we work together not only in improving the lives of the rural populations but also in disseminating important scientific information to the masses; since information is power. I am happy to belong to the ROP/AJFAND family.