Editorial
A SPORTING NATION SHOULD ALSO BE A NUTRITIONALLY HEALTHY NATION
Ruth Khasaya Oniang'o
Editor-in-Chief, AJFAND
I would like to use this issue 71 of our journal to celebrate two key events that have changed the face of Kenya now and in the recent past. One is the just concluded IAAF (International Association of Athletics Federations) World Championships in Beljing and the other is the visit to Kenya by President Barack Obama ( August 24-26, 2015). For as long as I can remember, Kenya has always been a world class sporting country; I recall the legendary Kipchoge Keino doing us proud and inspiring many of us to want to run."Kip Keino was born January 17, 1940 in Nandi Hills, Kenya. At the 1968 Olympics, he competed in six distance races in eight days. In the 5,000-metre final he earned a silver medal. In the 1,500 metres he won the race by 20 metres. At the 1972 Games, he won a silver medal in the 1,500 metres and a gold medal in the 3,000-metre steeplechase. He was later president of Kenya's Olympic Committee". Source:BIO. The year 2015 sees Kenya become the top sporting country in the world, beating well acclaimed Jamaica with my favourite fastest sprinter Usain Bolt ( who by the way visited Kenya and adopted a Cheetah, the fastest animal in the world), and the traditional winner, the United States of America. What has pushed Kenya to make the Beljing 2015 IAAF the most trending event on social media is the fact that this is the first time ever Kenya has won this global sporting event.Over the past few years our athletes have had challenges, always complaining of poor remuneration, bad management, things we did not hear this year. We expect similar performance if not better at next year's Brazil Olympics. Why is this win so important for Kenya? Why does Africa need good news so badly at this point in time? I, and many others feel this is the time for Africa. This is our turn to get things right for this continent. As we can all see below, Kenyan runners have come a long way, from 1954 running bare foot in London to present day where all kinds of world class sportswear companies compete and clammer for business and recognition. To sport, to run and to stay in top form as our sports men and women do, no doubt good nutrition is important, in fact essential.
More than 90 percent of Kenya's marathon runners come from the Rift Valley, including the self made Javelin thrower( Julius Yego) who learnt the sport from YouTube. This year, he has won GOLD in Beljing. Most of these top performers drink mursik on a daily basis. Should we do a study to determine whether there is any link between mursik and sporting prowess? Murzik is a milk traditionally fermented and I recall developing a liking for it when it was introduced by my students of Experimental Foods at Kenyatta University way back in the 1980's. Well, it is milk, full of proteins; it is fermented, full of probiotics; and it has some tree root powder, adding more nutrients; and it is drunk regularly to continously nourish the body. We need to stay united around sports, and to promote good nutrition and healthy lifestyles using sports. It is also good that we are diversifying as in adding Javelin and the 400 metre hurdles (Nicholas Bett) this year.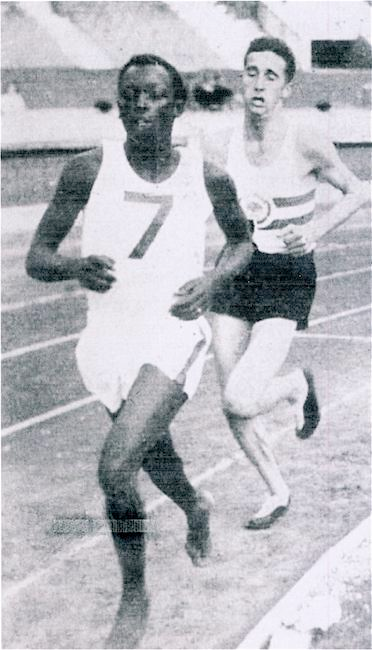 Source: KenyaFacts
Lazaro Chepkwony racing barefoot in London in 1954; he was the 1st Kenyan to race in Britain. I am told Lazaro Chepkwony is still alive. Even though he did not win an international medal, he was a trailblazer, together with 3 or 4 others who need to be recognized by Kenya. Here he looks healthy and well built. That is what I keep talking about: I have no idea where malnutrition came from? We must get rid of this demon. It makes us look bad and irresponsible, when our children become emaciated and sick. Kipchoge Keino was still winning medals at age 32.Had he been malnourished, this would not have been possible.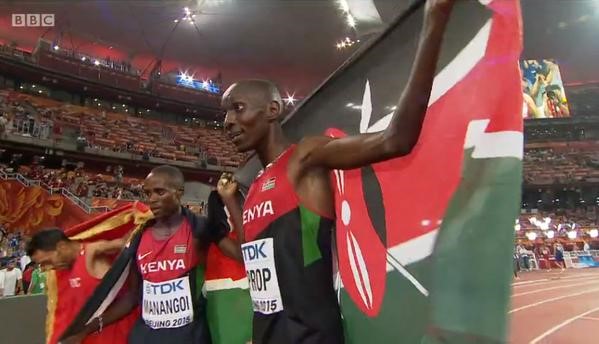 Source: BBC
Asbel Kiprop and Elijah Manangoi were one and two in the 1500 metres in the IAAF World Championships in Beljing China on August 30, 2015, and thus moved Kenya to the top of the MEDALS table. Asbel Kiprop's specialty for a gold medal is 1500metres same as for Kipchoge Keino.
Now to US President Obama's visit: it had been highly awaited and anticipated. Kenyans were ready for him; we even planted grass in Nairobi to welcome him. We gave ourselves 3 days' holiday, just to stay at home and watch him on the TV screen, others listened to him on the radio; we watched the "beast" and just felt good, that the genes Kenya had exported to the US in the 60's had borne wonderful fruit Kenya could be proud of. And we do have good genes: look at our runners! Since President Obama visited and we proved that we could secure his safety, tourist numbers are soaring. Look, Kenya is a great tourist destination. Number one, we love guests, we love visitors. When I was growing up, I always wished for visitors as it was the only time we ever ate meat! The rest of the times we sourced animal proteins from insects. As I moved on in life, I realized rural communities in Kenya were similar in the way we welcome visitors. Following President Obama's visit Visa rules have been relaxed and greater collaboration has been assured in fighting terrorism. We are a hotbed of hope and friendliness; a top CNN manager had to fly to Nairobi all the way from Atlanta where CNN is headquartered, to apologize for reference to Kenya as a hotbed of terrorism, just ahead of President Obama's visit. Well, upon that comment, Kenyans got onto social media with the hashtag: "someone tell CNN".
The most important message by the US leader was: "It is about time that we started to view Africa differently". We welcomed him, we listened to him and we love him as our own.
We Africans should also view ourselves with pride. I do. We need to be in the driver's seat as others show interest in the continent. We need to demonstrate our readiness to do business. We welcome visitors who are interested in helping us develop our country. I work on food and nutrition security issues and I see hope here. Athletics Kenya must assure us that there will be no drugs being used to win. After all Kip Keino did not need drugs to win. Bravo Team Kenya and Bravo Kip Keino. Now that we feel so great to be Kenyan, we should get our act together by ensuring good governance and: sharing the national cake equitably, promoting quality education, financing healthcare to save mothers and children and addressing the escalating cancer incidence and diabetes, ensuring gender equity, and prioritizing food security and nutrition. Safe nutritious food is so basic that without it, you cannot talk of keeping off disease, good performance in school, ensuring a healthy national workforce, reproductive functions or keeping women and girls healthy for reproductive functions or most of all, winning medals on the world stage. Let us try to eat right be we athletes or not and help others too to access good nutrition.