Profile
Dr. Mercy Lung'aho, PhD
Accomplished program and project manager with expertise in the identification, design, setup, and planning of projects continuing through project implementation, monitoring, evaluation, and publication.

Insightful food and nutrition scientist and hands-on researcher linking agriculture and nutrition who has been instrumental in driving food value chain improvements in challenging environments. Successful in identifying nutrition interventions, co-designing solutions with communities, leading product formulation and development teams, and improving food safety in different settings.

Adept at moving research into implementation by identifying critical action points for enhancing nutrition outcomes within vulnerable communities, agricultural value chains, and food systems. Guiding national agricultural research systems on how to connect agriculture to nutrition, and helping stakeholders see how agricultural programs can help them achieve national nutrition and health objectives. Providing technical expertise and advice that enables governments to develop policies, programs, and funding opportunities that foster agriculture's role in improved nutrition and health outcomes. Forward-thinking top performer and thought leader able to formulate explicit nutrition enhancement strategies and optimize food system performance through innovative, scientifically rigorous and business-savvy interventions.

Leading advocate for nutrition training and collaboration, which has motivated countries to strengthen their commitment to nutrition. Proven record of strengthening the capacity of stakeholders in multiple sectors including the food industry, farming community, development agencies, and governments, and in building partnerships among those stakeholders. Liaising with governmental bodies, industry associations, and scientific institutes in Africa and at the global level.

Topics of expertise include nutrition efficacy, randomized control trials, case-control trials, food security, food safety, product development, nutrition education and promotion, gender empowerment, research design, capacity-building, linking agriculture with food systems and nutrition, community nutrition advocacy, and nutrition surveillance. Breakthroughs in intervention design include the Nutrition Early Warning System which uses Big Data and artificial intelligence algorithms to predictively reduce childhood stunting; and multi- sectoral approaches to addressing malnutrition among vulnerable populations. Responsible for landmark research including the Nutrition, Markets, and Gender Survey, which highlighted the need to promote adolescent nutrition on par with infant nutrition; and Rwandan beans study, which provided the first proof of concept that biofortified beans can improve nutrition status in humans.
E-Mail: mglungaho@gmail.com
LinkedIn: https://www.linkedin.com/in/mercylungaho

Mercy is one of Africa's shining young scholars in Nutrition. She is AJFAND's very dedicated reviewer and also takes time to help her younger colleagues with manuscript preparation. We acknowledge and value Dr Lung'aho's support. Ed. AJFAND.

---
Mrs Lynette Aoko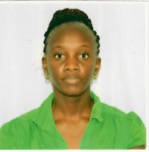 Lynette Aoko Owiti is a registered and licensed nutritionist and dietitian. She has received her bachelor's degree in Food Nutrition and Dietetics (First class honors) from the University of Nairobi (2010) and a master's degree in Applied Human Nutrition from the University of Nairobi (2013). In 2015, she was awarded a scholarship by the German Academic Exchange Service (DAAD) to pursue her doctorate degree in Food Science and Nutrition from Jomo Kenyatta University of Agriculture and Technology. Lynette is passionate about use of evidence based solutions to tackle modern day nutrition challenges. She has extensive experience in community nutrition having worked as a nutrition officer with International Medical Corps in Isiolo supporting health system strengthening through the implementation of High Impact Nutrition Interventions. She has been involved in enhancing nutrition practices in West Pokot through a community based strategy approach with the Kenya Red Cross Society. She has also coordinated nutrition projects in Wajir with Save the Children to support High Impact Nutrition Interventions. Lynette has also worked closely with UNICEF to support modelling of breastfeeding at the workplace through use of baby friendly community initiative which was a key project to guide the Country on how to support working breastfeeding mothers. Her research interests are focused on improving maternal, infant and young child nutrition. Lynette presently is a lecturer at Jomo Kenyatta University of Agriculture and Technology in the Department of Human Nutrition Sciences where she is able to impart knowledge based on evidence from research work done in the field of nutrition on what works.

Mrs. Lynette Aoko Owiti is married to Sylus Owiti Openji and has a daughter, Natalia and a son, Emmanuel.
Email: linetaoko@yahoo.com

Lynette has worked very hard to make sure she refines her manuscript to meet AJFAND standards. We are proud to have her as a budding scholar publish with us. She is a nutritionist. Ed. AJFAND
---
Dr Isaac Okyere

Dr. Isaac Okyere is a young scientist who studied for his BSc, M. Phil and PhD degrees at the University of Cape Coast (UCC) in Ghana where he majored in Fisheries and Aquatic Sciences. He is presently a lecturer at the Department of Fisheries and Aquatic Science, School of Biological Sciences, University of Cape Coast. As a Fisheries Scientist and Lecturer, Dr. Okyere engages in a number of academic and research activities including teaching, field, laboratory and community research activities, from biological and ecological to fisheries and socio-economic research. He supervises undergraduate, masters and PhD students' dissertation and thesis research, as well as works on departmental funded projects. He worked together with the WorldFish Center, Malaysia through the USAID funded Integrated Coastal Fisheries Governance (ICFG) project and currently works partly on USAID-Ghana Fisheries projects. He has also had short-course trainings in ecological/ecosystem modeling at the Murdoch University and CSIRO-Marine Sciences - Australia, fish stock assessment and fisheries management from the University Rhode Island- USA, and the UN Law of the Sea Convention from the Australian National Centre for Ocean Resources Security (ANCORS)- University of Wollongong, Australia. During his PhD graduation in February 2016, he received the School of Graduate Studies' award for Outstanding Research in the College of Agriculture and Natural Sciences (UCC). Dr. Okyere currently teaches courses in biology, fisheries ecology and ecosystem modeling, coastal management, social research methods in science, fisheries science and management, fishing gear technology and fish processing technology. He has authored/co-authored a number of research publications in local and international journals on fisheries and coastal ecosystems including papers in Springer and Elsevier journals where he also contributes as a reviewer.

E-mail: iokyere@ucc.edu.gh
Professional Links:
LinkedIn - https://www.linkedin.com/in/isaac-okyere-b3802a70/
Google scholar - https://scholar.google.com/citations?user=ax71H7wAAAAJ&hl=en
Research Gate - https://www.researchgate.net/profile/Isaac_Okyere
Academia.edu - https://ucc-gh.academia.edu/IsaacOkyere

Dr Okyere is a brilliant young aquatic scientist. We are lucky to have him as a reviewer. Ed. AJFAND.