Profile
Prof. Ken Buckle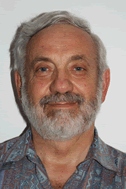 Professor Ken Buckle is an Emeritus Professor in the Food Science and Technology Group, School of Chemical Sciences and Engineering, Faculty of Engineering at the University of New South Wales, Sydney, Australia, following his retirement in December 2005 after a 44 year association with UNSW.  His recent appointments were Director, China Relations (2004-05), Associate Dean (International Development) in the Faculties of Life Sciences (2000-02) and Science (2002-03), Head of the Department of Food Science and Technology (1994-2000) and of the School of Applied Bioscience (1998-2000), Chair of Food Science and Technology (1994-2005) and Professor (1991-2005).  His teaching and research interests cover food safety, traditional and novel food preservation and processing technologies, hurdle technology, and food standards.  He has supervised 35 PhD/MSc/ME research theses, and 187 project reports for BSc/MSc (coursework) projects.  He is the author/co-author of over 160 published papers/books/reports.
Professor Buckle is a Fellow of the Australian Academy of Technological Sciences and Engineering, the International Academy of Food Science and Technology (President 2001-03), the Australian Institute of Food Science and Technology (President 1995-97), and a Scientific Fellow of Food Standards Australia New Zealand (FSANZ, 2000-02, 2005-).  He was awarded the AIFST President's Award (1988) and Award of Merit (1990), and a Centenary Medal (2003) by the Australian Government for "services to Australian society in food science and technology".  He was Chair of the Scientific Council of the International Union of Food Science and Technology (IUFoST) and a member of its Governing Council (2003-06), a Board Member of Food Standards Australia New Zealand (2002-05), and a member of the Independent Expert Panel (2002-03) that assisted in the evaluation of the FAO/WHO Food Standards Program and related Codex activities. He is currently Chair of the Editorial Advisory Board for the online magazine The World of Food Science (www.worldfoodscience.org) , Chair of the IUFoST Publications Task Force, and Public Officer of AIFST.
---
Prof. Richard Douglass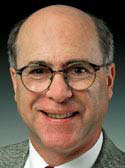 Richard L. Douglass is an Emeritus Professor of Health Administration, College of Health and Human Services, Eastern Michigan University. He is a social epidemiologist with a record of 40 years of field epidemiology, research, policy analysis, and teaching. His career began with "shoe leather epidemiology" in the syphilis control program of the U.S. Public Health Service, Centers for Disease Control, and the Chicago Board of Health.  His academic contributions include over 100 publications in a broad range of applications including the epidemiology of alcohol-related traffic morbidity, the effects of beverage alcohol control policies, legal and public health policy analysis, domestic violence, gerontology, cross-cultural public health and gerontology, familial factors that determine long term compliance with childhood malnutrition intervention and rehabilitation, the organization and management of health systems including remote and rural primary care delivery and innovative applications for information technologies, nursing home care for the aged poor, health care for the homeless, and research methods and design.  He has served on the editorial boards of domestic (USA) and international journals in public health, development, gerontology, social work, and health care administration.  His honors include Distinguished Faculty status and the Teaching Excellence award at Eastern Michigan University in Ypsilanti Michigan, Distinguished Faculty by the Governing Board for State Universities in Michigan, President of the Michigan Academy of Science, Arts & Letters, and he has been the recipient of numerous fellowships and academic awards, including two Fulbright Scholar awards to Ghana since 2001.  He has served on the faculties of The University of Michigan, Wayne State University, Eastern Michigan University, the University of Ghana-Legon, and Ashesi University-College in Accra, Ghana, where he is currently teaching Social Research Methods as a Visiting Professor. His shift from a clinical to an epidemiological career path began in Ethiopia in 1967. In addition to his work in the U.S. he has established research and scholarly partnerships with colleagues in Puerto Rico, El Salvador, the Philippines, Indonesia, Sierra Leone and in Ghana.   
Richard Douglass's research contributions have often opened new lines of investigation and new methodological innovations. Richard Douglass is credited with heading the first study on the topic of elder abuse and neglect that set the stage for a 30-year international research literature tradition.  His seminal research on the legal drinking age set standards for legal impact analysis worldwide and affected legislation in over 50 nations.  That research's methodological rigor and innovation raised the public health community's recognition of quasi-experimental designs for large-scale research efforts.  At the same time his innovations in qualitative research for emerging questions has also affected the standards for research methodology when, in his words, "you go into the field knowing nothing at all, except that something is wrong."
Most recently Professor Douglass has focused on his true passion, the health status and well being of people, especially the poor, in Africa.  His introduction to Africa was in 1966-1967 when he was an undergraduate in Biology and African Studies in Addis Ababa, Ethiopia.  The prominence of public health as a discipline and the critical nature of primary prevention, sound quantitative program evaluation, policy assessment, and research-based public health planning and development programs that he first realized 41 years ago have kept him busy and productive.  Since 1999 Professor Douglass has worked with his wife, Professor Brenda F. McGadney-Douglass, Professor Nana Araba Apt, University of Ghana and Ashesi University-College, and Professor Phyllis M. Antwi, University of Ghana, to study determinants of survival of kwashiorkor in the Jamestown, Korle Gonno and ChorKor districts of Greater Accra. His most recent research effort is the first management skill set assessment of hospital and health administrators in the Ghana Health Service and in private or NGO health facilities throughout Ghana with colleagues from Ashesi University and the Ghana Health Service. Richard Douglass anticipates focusing his remaining career on Africa with an emphasis on the development of sustainable mobile health care delivery and telemedicine, advanced information systems, and establishing global medical consultation with "fidelity of care" primary care systems and advanced communication and diagnostic technologies to remote and underserved populations. When introduced to a gathering in 2006 at Eastern Michigan University about a public health perspective on genocide in the Darfur, Douglass said, "Just because I was born near Chicago, Illinois does not mean that I do not know whom I am. I am African, and so are all of you."
In 2009 he anticipates launching the Eastern Michigan University - Ashesi University Health Management Scholars Program that will be a unique, rigorous, study abroad year for selected Juniors from Ashesi University-College to spend a year at Eastern Michigan studying the biology of aging, biology of cancer, international business, epidemiology and health system management to become specialists in health administration for Ghana. Part of this project includes the preparation of a Ghana-specific textbook, An Introduction to Health Administration in Ghana, to be published by Ashesi University.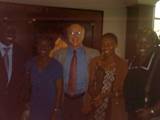 Richard Douglass with colleagues at Launch of Ghana's 2007
   UNDP Human Development Report, February 2008           

  Photo: UNDP, Ghana

  Prof. Douglass discussion an economic development project with Liman Ayuba,
  Iman of Larabonga Mosque, Larabonga, Nothern Region, Ghana.
  Photo: Lydia Odai-Tettey, June 2007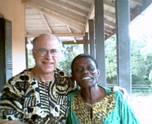 Prof. Douglass with Rev. Boye-Fio Quartey in Abokobi, Greater Accra
  Photo: Lydia Odai-Tettey, June 2007  
Summary provided by Public Information Office, Welch Hall, Eastern Michigan University, Ypsilanti, Michigan   48197   USA  www.emich.edu
Prof. Richard Douglass, M.P.H., Ph.D., Emeritus Professor of Health Administration, College of Health and Human Services, Eastern Michigan University