Editorial
Famine in Kenya again after just one year!
By Ruth Oniang'o

An article in the Kenya leading Newspaper the Daily Nation highlights the plight of those who are faced with this devastating catastrophe. The picture below by GATONYE GATHURA gathura@ke.nationmedia.com Posted Tuesday, January 4th 2011 at 21:00 shows women who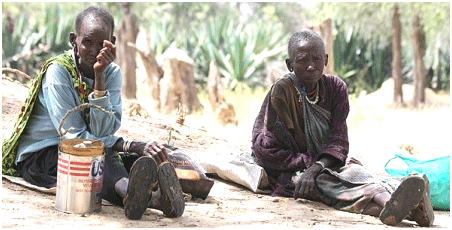 clearly look desperate as they ponder where their next meal will come from. Was this famine predicted? Media records reveal that as far back as far back as November 2010, the Office of the Prime Minister had recommended assistance to farmers through the purchase of livestock before they are finished off by drought. In the past Kenyans have witnessed emaciated dying livestock on television, and distraught famers who have lost most of their livelihood.
Seven months back, around March 2010 there were killer floods that destroyed animals, homes and drowning. These floods followed the drought of 2009. Exactly a year ago, we reported about ten million Kenyans (about 25% of the Kenyan population) facing starvation due to the drought of a little over a year ago. This year's drought is attributed to La Nina. By now the Kenya Government should have the capabilities to project these droughts and make effort to prepare for their negative impact. The government knew as far back as October 2010 that   a bad drought was in the offing as livestock numbers were fast declining. Already child wasting is on the rise as more children keep away from school. Children cannot proceed to school when they are hungry. Relief food is not enough for families and the allocation for traditionally hungry areas is also reduced due to shortage. Already milk production by cows had gone down by 50% and animals are trekking 15 kilometres in search of water,  a distance  that is too  harsh for animals during a period that is supposed to be normal. According to the Kenya Meteorology Department, the current short rains will affect the long rains normally expected after March 2011.
Mitigating measures recommended by the Government were:
Increase allocation of relief food

Truck water to save people
Gregory Campbell (East Londonderry, DUP) They Work For You.com

Westminster Hall debates, 27 January 2010, 11:00 am
During an adjournment debate!

"Drought, famine and corruption are three debilitating reasons for Africa's awful dilemma, and they afflict Kenya as much as any other country. Despite all the aid and assistance offered it seems to many on the outside that things do not change. Yet there is hope. I have been to Kenya and other parts of Africa. Tribute needs to be paid, and repaid, to the many volunteers, missionaries and charities that are involved in delivering help and hope to the people of Kenya. In north Kenya I witnessed at first hand some excellent work being carried out by missionaries, who for many years have toiled without reward to deliver assistance to the people there."
Robert Zoellick, the World Bank Chief is quoted below
"So yes, we need to help smallholder farmers become a bigger part of the solution to food security, but that needs to go hand-in-hand with also helping them to farm in a way that is more sustainable in its use of the natural resource base, and more resilient to the ever-growing impacts of climate change. It's a challenge that is given added urgency by the need to feed a global population that will likely exceed 9 billion by the year 2050. The alternative is continued hunger, mass migration and a threat to the social stability of many developing countries. Rural Poverty Report 2011 by IFAD"
The examples above illustrate two things. First, the famine in Kenya year in year out should be attributed to a cause other than drought. Political ineptness and poor planning are close by. Israel and the Arab world are mostly water scarce and they hardly experience famine. The second one is that even the World Bank has now come to accept that smallholder farmers across the globe, and especially the women,  should be accorded support and value when it comes to fighting food insecurity. Therefore, Kenya and other African governments should be serious about tackling the perennial food insecurity on the continent. After all the countries that normally come to our aid are facing their own challenges; Australia has for example been hit hard by floods. They could use some food aid from sub-Saharan Africa, but when?
By
Ruth Oniang'o
Editor-in-Chief
AJFAND